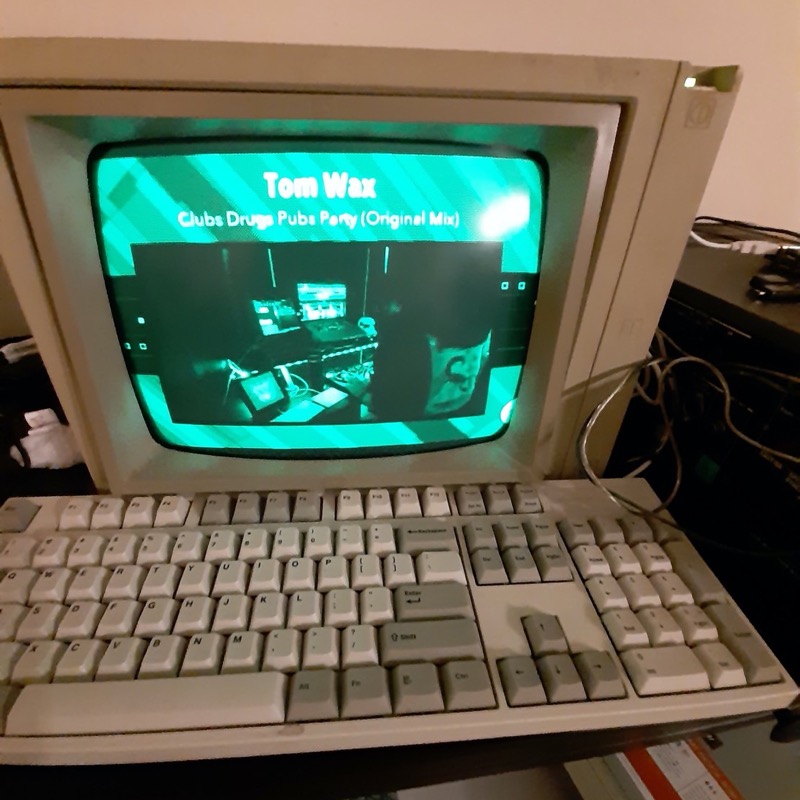 On July 7th, 2020 I did a live video stream to test Owncast. This is the audio recording from that video.
It was cool to have people drop by, listen to some music, and help test out the server. I really appreciate the time anybody spends to help me test things, since when it comes to things like Owncast it needs to be used to be tested. And people need to tune in for me to get any useful data out of it.
Apple II monitor photo was taken by https://mastodon.social/@pizza_pal. That's how he watched the stream. So cool.
Tracklist
00:00:00 Bedless Bones - Sad and Alone (Wychdoktor Remix)
00:05:07 Icon Of Coil - Wiretrip (Isle Of Crows remix)
00:09:00 Pete Crane - Messed Up (Dkag Remix)
00:14:07 Spharion - Travelling (Original Mix)
00:23:05 Tom Wax - Clubs Drugs Pubs Party (Original Mix)
00:24:32 Flug - Reality (Original Mix)
00:25:28 F-Rontal - Diopsidae (Original Mix)
00:29:27 ALESSANDRO ZINGRILLO - Hidden Bass (Original Mix)
00:32:02 INHALT - Language (Rhys Fulber Remix)
00:39:32 Noisuf-X - Hit Me Hard
00:45:21 I:Scintilla - Skin Tight
00:45:22 Noisuf-X - Hit Me Hard
00:47:17 Inertia - Stormfront (KLOQ Remix)
00:53:16 Cynical Existence - Face Of God
00:55:25 Apoptygma Berzerk - Starsign (hard_code Remix)
01:00:23 Grendel - Flux (Solar Fake Remix)
01:04:05 Doxa - Magic Pills (Original Mix)
01:09:30 FULL PROPULSION - 128 Bits (Original Mix)
01:13:15 Shadow Chronicles - The Matrix (Protonica Remix)
01:19:36 Not-So Ebb - Stay Inside Your Home
01:20:42 Juno Reactor - Let's Turn On (Original Mix)
01:23:10 klack - Distancing
01:23:50 Not-So Ebb - Stay Inside Your Home
01:29:21 Egorythmia - Quarantine (Original Mix)
01:29:53 LiquidFlux, Velowen, KURXCO - Coronavirus (Original Mix)
---
I have more stuff you can read if you like. You might like these: