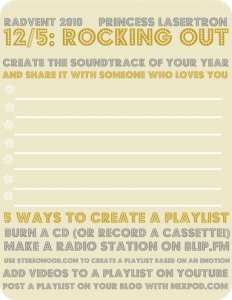 Create the soundtrack of your year.
Now THIS is more like it!  Though to be honest I feel like I talk about music to people so often I don't know what to put here that's worth reading.
It's actually pretty easy for me to find what I've been listening to this past year because of Last.FM.  In fact here is my 12 month chart in detail. However, this year I haven't really been "into" anything significantly like most years.  It's certainly been a soundtrack of a year built of previous years and a couple new discoveries.  But unlike years where I can say "I was really into Daft Punk" or "I discovered the new pornographers this year" this year has been a pretty casual listening time.
Of course Nine Inch Nails has been a staple, but there's nothing new there.  Though I really enjoy any live releases that happen to come out from shows, so there's generally always been something new to listen to.
Ghostland Observatory came out with a new album this year, "Codename: Rondo" and I've given that a few e-rotations.  They ended up pretty high in my list with 119 plays.
Crystal Castles also came out with a new release this year, and I've played them a bit.  Well, only 85 times.
I went to see Lords of Acid this year, and around that time I was playing them quite a bit.
Blaqk Audio is an electronic dancey group that I never would have heard of if @andrea_joi didn't suggest them to me.  They get a pretty constant play rate in my rotation.
If you organize my music by what tracks I listened to the most it gets even a little more broad.  Is that Semisonic's 2001 hit "Chemistry" way up on the charts?  Yes it is.  And that, my friends, shows you that it's been kind of a down year when it comes to tunes for me.  (Don't get me wrong, I really like that song.)
For some reason "Shiny Toy Guns" was a staple this year as well.  But that's some feel-good, fun time poppy dance tunes that I can't go wrong with.  So who would blame me?
If you look at albums I've listened to the most, I think it's a pretty good list.  We start with Blaqk Audio's SexCells, as mentioned before.  A couple soundtracks, including Repo!  The Genetic Opera. And the awesome comedy album by The Lonely Island, Incredibad.
Also as far as albums we have that new album by Ghostland Obervatory I mentioned, The Dance Macbre Remix album by The Faint, Daft Punk's Discovery, and Battles' Mirrored.
I've heard Battles in previous years, but it was just this year I got their album "Mirrored", and it's really great stuff.  Highly recommended.
To close things out I'll point you to songs that I've been recommending, as they are a great example of music I've loved at that point in time.  So seriously head over to http://gabekangas.com/musicrecommendations to hear some tunes.
I know this post wasn't very deep or anything, but hey.  What do you expect?
Below I'll embed a few sources of tunes probably mentioned above, and you can partake if you like.  Enjoy!

Create a MySpace Playlist at MixPod.com
---
I have more stuff you can read if you like. You might like these: